The invisible cost of service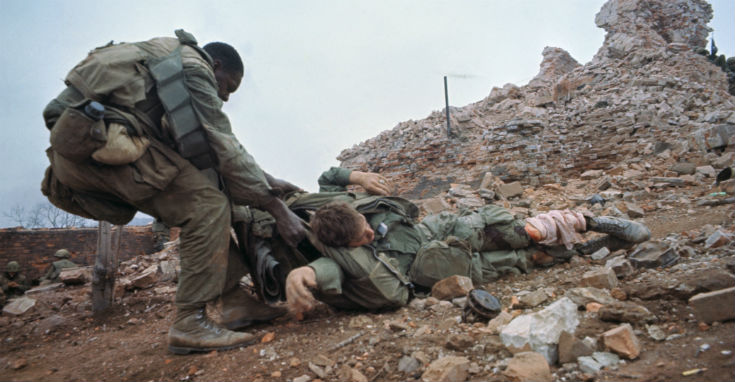 I remember the first war-themed motion picture that "stuck." By stuck I mean stuck as in I remembered the whole plotline and the ending. It was the 1962 film, entitled Hell is for Heroes. It would be years before I really understood the underpinning nuances of the story fully, and even more years before personal experience taught me of the draconian choices military service often forces on the men and women who go in harm's way.
When "Hell is for Heroes" was released, PTSD wasn't a thing. It would be nearly 20 years before the term was coined, finally finding its way into the Diagnostic and Statistical Manual (DSM-III) in 1980. And as anyone who's had a close call with death knows, the experience sticks and reliving it tends to fire all the nerves and emotions it evoked when it happened.
"Thank you for your service" is (at least) an acknowledgement of what the men and women who venture out on the pointy end of the spear go through. I'm always just a little "at a loss" for what to say in response when someone offers me that thanks, however. I finally came up with an anodyne "It was my honor and I'd do it all again." It's true, by the way. I would.
Courtesy Patrol: Oceanside, 1972
Anyone who has ever lived around a town that hosts a major deployable military force knows what to expect. Whether it's during extended, multi-year conflicts in which combatants rotate home after a combat tour, or (especially) when the war winds down and troops start come rotate back to their home installations. Fresh from the roller coaster ride of moments off the charts fear and unspeakable drudgery and boredom, many perhaps most come up with coping strategies, some constructive and effective, some not.
In Courtesy Patrol, one of the short stories in the Through the Windshield, anthology, a young lieutenant back from a combat tour in Southeast Asia is Courtesy Patrol in Oceanside, on a payday weekend. Patrolling the girlie bars and grills, he is gets his first glimpse of just how violent the effects of PTSD can be.
The experience sticks with him and it's still on his mind the next day. The events of the night before stick to his thoughts, not surprisingly and lead to a greater appreciation of how for most of us who serve, that service changes us, in ways we don't fully appreciate, sometimes for years. In Courtesy Patrol, this is his moment of epiphany and nothing will ever be quite the same, again.
Through the Windshield, Drive-by Lives is a great way to sample D.B. Sayers' writings and to acquaint yourself with the themes that weave their way through his writings. It's available on Amazon in Paperback and Kindle formats. Or you can subscribe to Dirk's Tribes at the top right of this page and get a PDF copy absolutely free.