Meet Dirk, the Author Unredacted...
Dirk's path to authorship wasn't quite accidental, but almost. Through his two previous careers, first as a Marine officer for twenty-two plus years and subsequently as a corporate trainer for thirteen, Dirk started more stories than he finished. During both of those careers, most of his writing was professional and non-fiction. He still wrote stories unrelated to his professional life, answering a spiritual need independent of any burning desire to see his work published.
But in the backwash of the 2008 financial meltdown, Dirk's employer filed for Chapter 11 protection and went looking for people they thought they could do without. A victim of ageism, he found himself cordially invited to leave and not return. Out of work and excuses, he finished his first novel, West of Tomorrow. Since then, Dirk has finished six titles, West of Tomorrow, his first novel, two New Adult romances, the first two volumes of a science fiction yarn of first contact and an anthology of thought-provoking, short stories.
Dirk lives in Laguna Niguel in sight of the Pacific with his wife, 2 psychotic cats and a 14-year-old Ball Python named Corona. When not writing, Dirk can often be found in the gym, snow skiing or in his garage fussing over his latest woodworking project.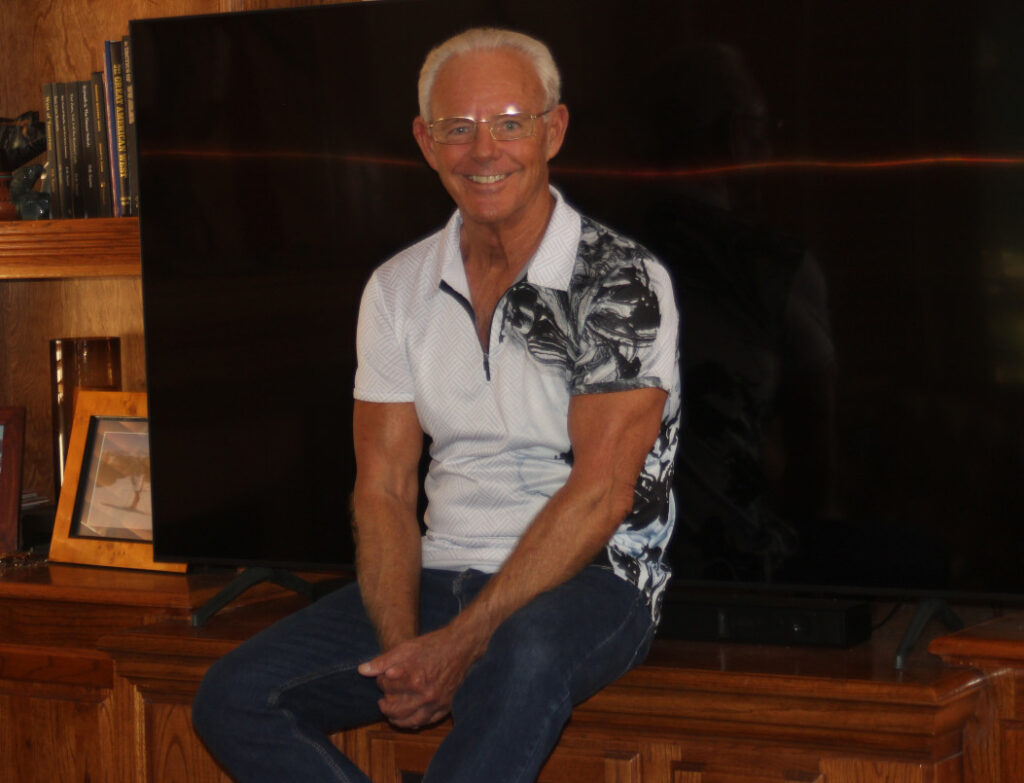 The author perched in front of the wall unit he built.
Perhaps the most prominent (and persistent) characterization of Dirk and his temperament is paradox. No one is more aware of the (at times apparent) puzzling contradictions than Dirk himself. Despite growing up in a notably conservative part of the country, most who know him would unhesitatingly characterize Dirk as a progressive. If asked, the man himself would be inclined to characterize himself as "balanced," but the specifics would tend to place him squarely in the progressive camp on most issues.
Further contributing to the sense of paradox is his first career. After graduating from Iowa State University, Dirk chose to serve in the military…in arguably the most conservative service, as a Marine officer. And upon returning from his first overseas tour, he doubled down on contradiction. Dirk took up surfing, eventually surfing competitively in the Western Surfing Association and shaping his own surfboards. Dirk doesn't surf anymore, though he is still an avid snow skier. He retired in 1994 after more than 22 years active service as a decorated Lieutenant Colonel. Characteristically, though proud of his service and his accomplishments in uniform, his characteristic comeback when someone comments, is to observe, "that and six bucks gets me a cup of coffee almost anywhere."