Tai's nothing like her hopeful dream-and everything she wants...
Nyra's transition from college grad scrambling for her first career job to full independence is as on track as it can be, these days. With her new marketing job is going well, even if she's still living at home,Nyra's pretty sure the light at the end of the tunnel is not an onrushing train.
Still, she gets bored, sometimes. A whimsical decision to take up surfing brings her together with Tai Abrega, a professional surfer and shaper so delicious Nyra's imagination hasn't even gotten around to fantasizing about a man like him, yet. Surfing awakens a latent, mystical connection with the sea along with a driven passion for the man himself.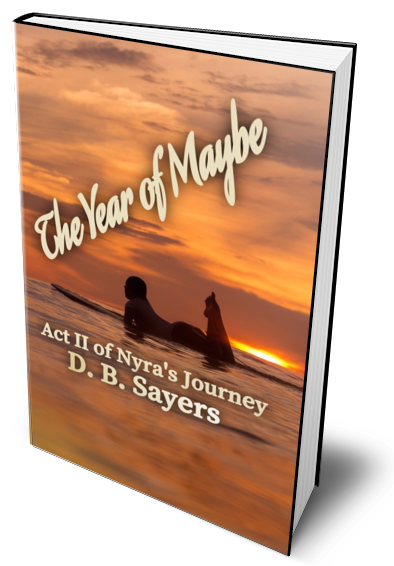 But embracing one possibility often demands abandoning another. How can Nyra fit Tai and the seductive siren song of freedom into her "safer" vision of perfect? Can she blend her conventional world with his freespirited lifestyle, or is she doomed to disappointment and heartbreak? New Adult fans of It Ends with Us and Finding Perfect are sure to enjoy this upbeat tale of hope.
The Year of Maybe Act II of Nyra's Journey continues the story begun in Best-Case Scenario. For a limited time, get your free copy of Best-Case Scenario, and be up to date on Nyra's story when The Year of Maybe is released in November. Then go to Amazon and pre-order your copy.
This is D.B. Sayers' sixth book and the second in the Nyra Westensee series. If you haven't already, subscribe to Smoke Signals, his newsletter by adding your email address in the subscription box in the upper right corner of this page.