From where I am at this point in my life, I see our time as a blink world of paradigm shifts, all happening at once and often working at cross-purposes with each other and humanity. It is partly the incessant bombardment of things to think about. Not that we weren't warned. The Tofflers predicted this when they published Future Shock, in 1970. In the nearly fifty years since, most of us who have been paying attention are painfully aware the Tofflers were mostly right.
But you'd never know it, from listening to many of today's "thought leaders." Whether it's anodyne corporate talking points drafted by some nameless HR functionary, or the sage advice of the self-help gurus and life coaches, I can't help feeling that something's missing. And don't even get me started on most of the politicians already stumping for our vote in 2020. There are exceptions in all three of the aforementioned groups. But even the best of them gloss over or dance around the truth hiding in plain sight.
The old order is dying. Representative democracy as we have known it, capitalism and the self-absorbed American way of life are all sinking of their own weight. The political thinking grounded in the time before the Industrial Revolution was never intended to cope with the 21st Century in which instantaneous communications and could disseminate simple, seductive lies faster than the ponderous, nuanced truths of a more complicated world.
The underpinnings of laissez-faire capitalism will never adapt to a world in which unbridled greed, unlimited growth and minimal regulation are now literally the most direct paths to extinction. A society of 330 million people in which average voter turn out hovers between the low 40s in mid-term election cycles and the mid-50s during presidential election cycles does not bode well for sustaining a vibrant democracy. (See chart below excerpted from Pew Research).
The "back-button doesn't work...
As a purely practical matter, the indicators noted above need to change. Extracting a meaningful consensus from America seems unlikely if almost half the eligible voting population doesn't vote, even in a presidential election. If these metrics continue, understanding how democracy might die without a whimper gets pretty easy. 
If you buy much of the foregoing, it should be obvious that what worked in the past won't work going forward. For the same reason we can't build tomorrow's fire with yesterday's ashes, we can't build a sustainable tomorrow from the ruins of yesterday. Change is the natural order of things. The "back button" doesn't work on history and deep down, most of us know it. We need to stop looking in our rearview mirror for anything like a promising future.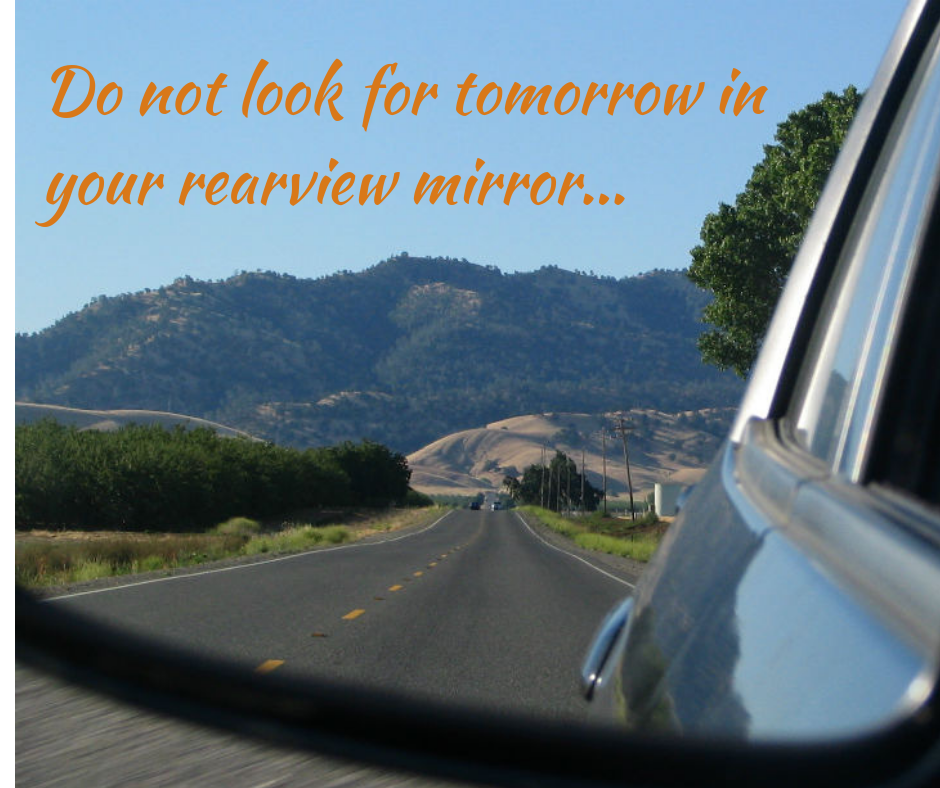 But in the midst of the angst, denial and motivated cognition, it's worth remembering we've been here before. We've survived ice ages, volcanic eruptions, huricanes, earthquakes and fratricidal wars over religion, and the Industrical Revolution. We should also remember that progress is rarely linear. Sometimes it meanders, sometimes it even regresses.
One of the daunting things about our time is the uncertainty that comes with it. In a way, perhaps  the most underappreciated spinoffs of the future shock as outlined in the Tofflers' book is it's paralytic effect. There's no lack of uncertainty confronting us in the second decade of the 21st Century. But looking back at the history of man in general and America in particular, uncertainty has never stopped us before. The future does not belong to the timid or despairing, it belongs to the thoughtful men and women with a fresh vision and a hopeful, innovative spirit that dares. And to the intelligent followers willing to accept the risks while focusing on the pay off.
Tomorrow does not come with unconditional guarantees or even with a promise. It comes with a challenge, a smile and only the faintest whiff of a "maybe." I can't tell you what will happen if we smile back. I can only tell you what will happen if we don't. So maybe smile with me as we together embrace our tomorrow.
Dirk Sayers is the author of West of Tomorrow, a contemporary literary romance and Best Case Scenario, Act I of Nyra's Journey, the first volume in a new-adult series about one young woman's search for her most authentic self. Through the Windshield, Drive-by Lives, a collection of Dirk's short stories, is now also available and Tier Zero, Volume I of the Knolan Cycle a science fiction tale of first contact is due out in November 2019.