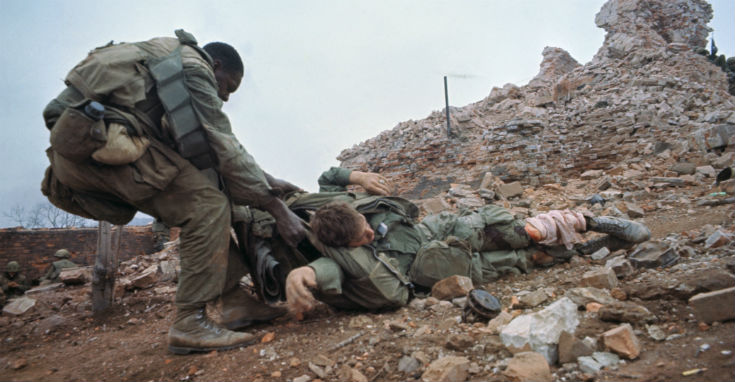 With Veteran's Day coming up, I'm bracing for the inevitable "thank you for your service" I get every year. It's always an awkward moment, for me. I usually respond with something like: "It was my honor to serve…" (it was, btw. And I'd do it again).
But this year, I have an idea how you can honor all those who served and still serve, as well as do your civic duty in a more general way. VOTE! It has never been more important. On the ballot, this November are a host of issues that should matter to every human of good faith. An incomplete list of those issues follows.
Social Security, Medicare and Medicaid. Senator McConnell has opined these should be on the block, in the next session because of the balooning deficit the Republican tax cuts largely favoring the wealthy and the wars in Iraq and Afghanistan are largely responsible for. In response to which, they're coming after your grandmother's Medicare and Social Security and Medicaid which in part funds opioid addiction interventions? Oh and just for the record. Those veterans you're going to thank this Veterans' Day? Most of them get part of their healthcare from Medicare, when they retire.
Immigration and Border Security. All BS aside, most reasonable U.S. citizens believe in border security and some kind of controls on immigration. Mr. Trump's yammering notwithstanding, Democrats are no exception. But what human with the sense to avoid falling over backwards in the toilet thinks a wall is the answer?
Voter Suppression. Georgia, Kansas and North Dakota come to mind. In all cases, it's clearly intended to disenfranchise people of color, but perhaps most egregious in my mind is the North Dakota case. If any ethnic group has a right to expect they would not be disenfranchised it must be Native Americans. But recent voter ID laws clearly calculated to target them and suppress their voice.
Foreign Policy. It's a dirty little secret most U.S. citizens would prefer to ignore, but U.S. policy regarding Saudi Arabia's fratricidal war in Yemen is tacitly permitting a humanitarian crisis even more acute than the one in Syria. Quite apart from being a fairly transparent accomplice in genocide, no thoughtful expert in the area of international geopolitics of whom I'm aware thinks much of his policies. As a retired Marine officer who spent the last half of his career involved in strategic and operational planning, I feel comfortable giving Mr. Trump the prize for strategic ignorance. George the Second was a close second, but he listened (sometimes to his sorrow) to others with more experience.
Income inequality. The tax cuts failed miserably and if you see who arrays on each side of raising the minimum wage, it's pretty clear that his protestations to the contrary, Mr. Trump and his Republican enablers are on the side of big business, not the average man, woman or child on the street. (Examples).
Corruption. To date, Tom Price Secretary of Health and Human Services, and Scott Pruitt, Secretary of the Environmental Protection Agency both resigned due under scandals involving documented malfeasance. Additionally, Ben Carson, Secretary of Housing and Urban Development and Ryan Zinke, Secretary of the Interior have been embroiled in similar scandals. In the latter case, Mr. Zinke is under seventeen (yes, 17) separate investigations, including at least one referred to the DOJ for possible indictment. And this does not include Mike Flynn (NSA Advisor), Paul Manafort (Campaign Manager) and Rick Gates all of whom have pleaded guilty to a host of charges associated with fraud, etc.
Decency. There is nothing in the Constitution stating the president must be a "good" man, whatever that means. And it is possible to imagine someone who is not a good man (or woman) who could still be effective as president. But among the arguments for Mr. Trump as president was the notion that he would Make America Great Again. The whole notion of American Exceptionalism (whether you buy it or not) pivots on leadership. If we are to view the election of Mr. Trump as a referendum on that notion, then perhaps you're okay with him being a demonstrable liar, serial sexual assaulter and (when all is said and done) an abysmally deficient mind for someone hypothetically leading the greatest nation on Earth and Commander in Chief of the most powerful military the world has ever seen.
Now is it fair to tar all of Mr. Trump's shortcomings on Republicans running for office? Logically and in a word, no. The president of the United States is part of the Executive Branch, separate and distinct from Legislative and Judicial Branches. Every sophomore knows this (or should) from their Civics/Government classes. As they should also know, however, it was the intention of the framers of the Constitution that the Legislative and Judicial Branches should act as a check on the Executive and vice versa.
They are not by law bound to oppose, simply because they are different branches. Rather they are expected to form independent judgments and act accordingly. At virtually every step, the Republicans in both houses of Congress have acquiesced when they have not actually abetted the president in his intentions and (frankly) routine departures from the truth. If we watch what they do, rather than listen to what they say, it's pretty clear there's not much daylight between the president and the Republicans in Congress. Following their conscience, that is their right as duly elected members of Congress.
Just as it is our right to jerk a knot in the butt of someone when we don't like what they (or the president) are doing. Mr. Trump has suggested we should vote as though he was on the ballot.
I couldn't agree more. We should take him at his word and remind him he answers to someone.