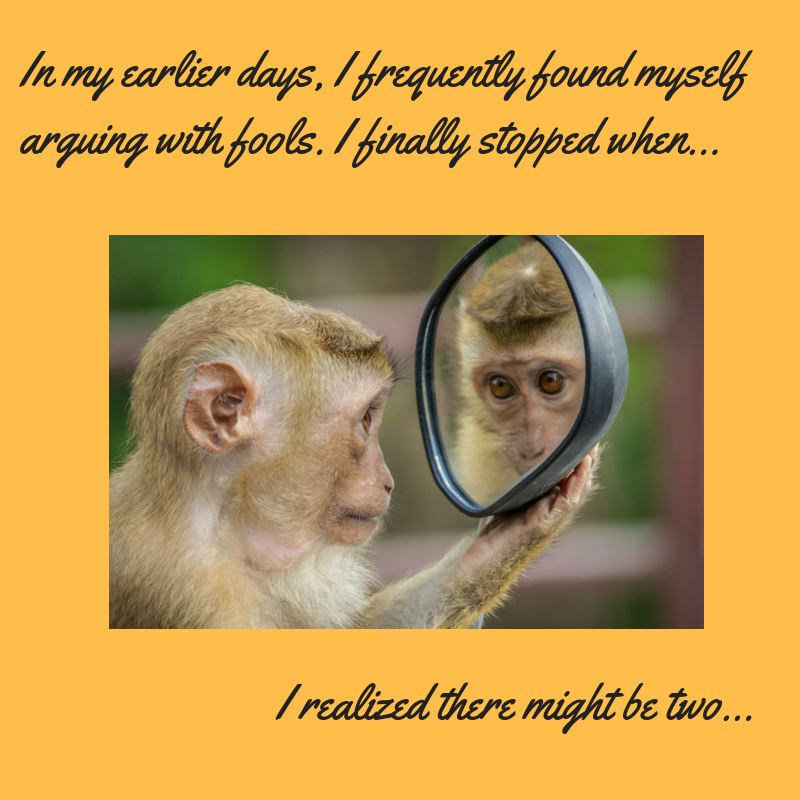 Stop me if you've heard this one, before. In the midst of a discussion with someone you thought you knew really well, it suddenly goes sideways. You learn they have a "blind spot" where their logic or education should be.
Because you're invested in them, you want to set them straight, so you start making your case. They push back. Their resistance to logic &/or legitimate evidence is nothing short of breathtaking and nothing you say gets through. They counter with something you know isn't true, but the more you try to set them straight, the more inclined they are to drop anchor. Been there, done that? We all have, I suspect.
For the same reason we as a species argue endlessly over (for example) the ontological mysteries of the universe or where to go for dinner tonight, we're going to differ over virtually everything on which two or more strong opinions are possible. (In other words, pretty much everything).
Decision time…fight it out or let it go. If you're like me, you're not entirely happy with this binary choice, thinking we can have a "discussion." But if you're dealing with, say, motivated cognition, we could be at it a very long (and probably inconclusive) discussion.
Whether it's the precise nature of "God," however we choose to define it or what actually happened at the CIA compound in Benghazi, our beliefs have everything to do with how we see ourselves, our relationship with the Universe, truth and each other. Most of us have reasons for believing what we believe and…again, for most of us…those reasons are often hidden, nuanced and multi-sourced.
During the course of that discussion we were talking about earlier, did you feel that hot rush in your gut, or that self-righteous anger over (you fill in the blank)? That's your emotion and your motivated cognition kicking in. You're about to make a fool of yourself. I know…I do it all the time.
In the wake of  the 2018 elections, I've come to remember what I once knew, in my previous professional incarnation as a Marine officer. Opinions are not the measure of our worth. Behaviors are. We were not perfect when we took our first breath, and chances are we won't be when we take our last.
But we can each day and every day, work to be the best versions of ourselves. Like it or not, we are defined by our actions. While opinions and facts matter, what we do with them is what matters most. Including knowing when to look someone in the eye and end a conversation with "We'll have to agree to disagree."  Civility and the recognition of our own imperfections is the beginning of wisdom. Arguing long after you've both stopped listening is…well, you decide.