The Year of Maybe, Act II of Nyra's Journey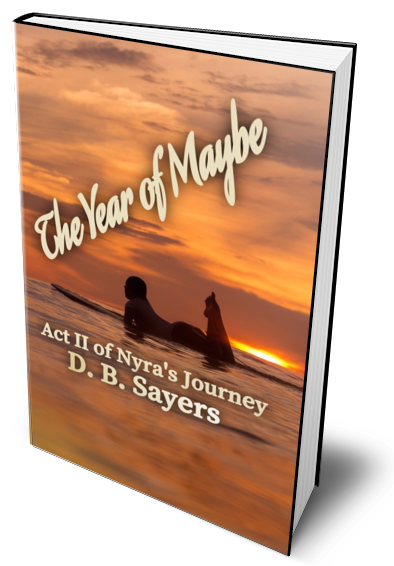 Readers of Best-Case Scenario, Act I of Nyra's Journey sensed there would be more to the story. They were not wrong. The Year of Maybe, Act II of Nyra's Journey, published in late July  picks up six months after Best-Case Scenario ends.
When we left off, Nyra had just come to grips with where she is in her life and the sometimes exhilarating, sometimes terrifying uncertainty. Growing up, Nyra had been hopeful she would not be forced to deal with the gnawing insecurities that her mother had dealt with most of her adult life. In a word, she wanted less struggle and more security.
But security and certainty don't come easily, especially to the young—and especially in the third decade of the 21st Century. As Nyra is learning. Just as she's learning about burn-out. She's doing well and taking on new responsibility as she gains more and more of her boss Denise's respect.
Paradoxically, the better she does professionally, the more she doubts her abilities to sustain and live up to the expectations her boss has of her. The fear is palpable, sometimes, but usually it lurks in her sub-conscious, coloring her thoughts in ways she is only vaguely aware of.
She really wants a boat she can live aboard, for reasons she can't entirely articulate. But she can't afford one yet on her salary, and still make her car and student loan payments. Nyra needs a distraction. Something—or someone—to balance her life. In her experience, life is rarely kind. But fortuitous accidents do happen.
Tai, San Onofre and Surfing
On a whim, Nyra decides to sign up for surfing lessons, at San Onofre State Beach. If she can't afford a boat yet, she reasons, surfing might be an emotionally rewarding second best. She has always loved the ocean and used to tag along with her brother and his friends when they went to the beach to surf. Maybe it will give her the balance she needs.
As life occasionally does, it gives Nyra way more than she expects. It all starts with Tai Abrega, a professional surfer and shaper from Hawai'i who teaches surfing lessons as a side hustle. Tai is a gorgeous hunk and nothing like what Nyra expects. Intelligent, thoughtful, and perceptive, he draws her in. Surfing—and Tai—become central to her life. So much so, that in a matter of months, Nyra cannot imagine her life without Tai in it. But Tai is more than a shaper and her surfing instructor. He's also a professional surfer with promise, intent on making a living on the pro circuit, which will take him on the road more than six months a year. Tai has big dreams beyond success on the tour. But can Nyra wait that long? And what about her own aspirations?
The Year of Maybe, Act II of Nyra's Journey takes Nyra on a voyage of discovery not only of the seductive call of the ocean, huge surf, the full gut wrench, and the possibility of love. No journey like this is smooth or without danger. But for  the courageous and open-minded, comes dawning sophistication and fulfillment that can be had by only a few. Will Nyra answer the call, and if so, how does it turn out?