Art and the Slippery Slope...
Last night, I had the pleasure of attending the latest reading sponsored by "Lit-Up, A Conversation Between Local Authors and Readers." Sponsored by Pure Fiction League & thoughtfully hosted by Maddie Margarita, it's one of the true highlights of my month. I never willingly miss it.
One of the readings, Hard Bite, chosen by Book People/Mystery People as one of the five best debut novels of 2013. this month was given by Elaine Ash, under one of her Noms de Plume, Anonymous-9. 
In Hard Bite, a crippled man nearly killed by a reckless driver takes it upon himself to become an avenging angel for people he deems worthy of an awful death, using a Capuchin Monkey as his weapon of choice.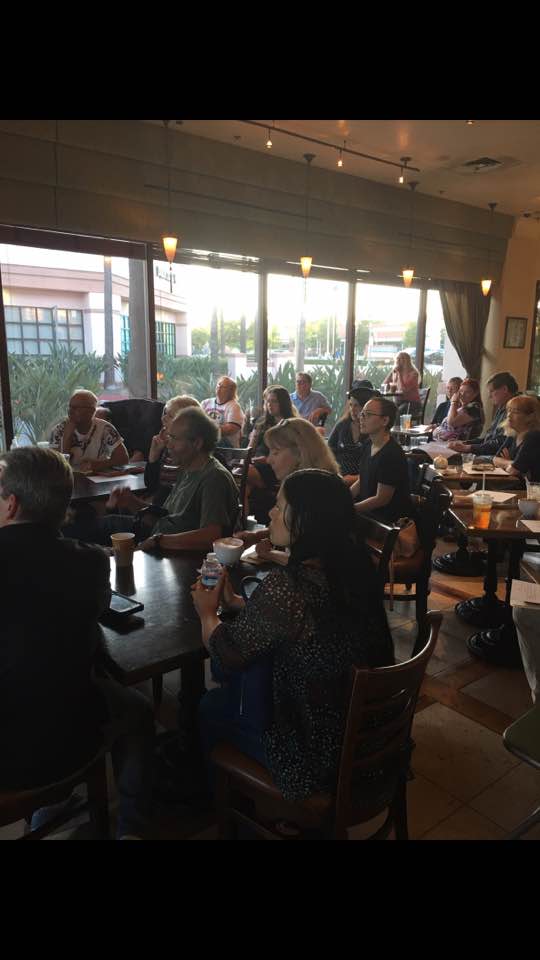 For this reading, the avenging angel has selected a target whose crime is to have sideswiped a mother of four, killing her and orphaning four children in the process. The law has been unable to locate him, but our avenging angel has connections and secures "justice" the law has been unable to provide.
A quick word on Elaine's writing before I cut to my point. Her command of language, artful manipulation of readers' empathy couples in  this novel with a delightful sense of humor to render an otherwise outrageous and (in places) macabre story both thoughtful and  entertaining. The reading, however, did spark a discussion and I'm going to share it with you.
Elaine's skillful manipulation of readers' emotions was noted, which in turn led one of the folks in the audience to speculate that author's sympathetic treatment of the vigilante murderer could be construed by some to be tacit approval and his observation raised (obliquely), the question of an author's ethical responsibility. Some, he opined, might conclude as a result of her treatment of the murderer that it was somehow okay to take the law into our own hands when the law itself failed. 
Setting aside for the moment that Hard Bite is a work of fiction designed to entertain, does the question raised remain valid? What if any lessons do readers take away from the works they read in books or see in films? Scientific inquiry into the correlation between viewing violent content and a propensity toward violence in any form is mixed. An APA study spanning a fifteen year period showed a positive correlation between violent content viewed during the formative years 6-10. But as Psychology Today notes in one of their posts to their online magazine, correlation between ideation and action remains an open question and stories of lawbreakers with altruistic intent are literally cultural bedrock.
Whether it's the story of Robin Hood or the long-running series starring Timothy Hutton and Co. in "Leverage," a pervading theme running through art in western (at least) liberal democracies seems to be that organizations in general & (businesses in particular) cannot be trusted. I should add that the the time-honored traditions  of organizational mistrust is often well-earned.
 And it is that same organizational mistrust that attaches naturally to our ubiquitous federal government. It's not hard to understand why, if you've been paying attention. A pretty strong argument can be made suggesting we have the president we do precisely because of that same organizational mistrust.
Depending on how you view "the Donald," that's either a good or a bad thing. As a  retired Marine officer, by whatever metric I use, he comes up short. Admittedly that's just my opinion, albeit an informed one, I think. Quite apart from unproven allegations of conspiracy to influence the 2016 election, Mr. Trump's choices for his cabinet, his abandonment of our allies and his sophomoric rants on Twitter the fiscally disastrous tax cut leave me in little doubt as to his legacy in the arc of history. 
Which brings us full circle to my scare-head, "Art and  the Slippery Slope." As an author and (hopefully) artist, I am fundamentally opposed to formalized (or worse) institutionalized censorship. I oppose it for the same reason I oppose censorship of the press, even in the face of the (sometimes) grotesque abuse of truth. If you're guilty, you know who you are. But as with anything that attaches to the public good, we all have an obligation to safeguard it. 
Artists believe we are entitled, even "obligated" to show our readers or viewers truth as we perceive it…even when it is uncomfortable or offensive. I hear you, agree and support you. To that support let me add a couple cautionary thoughts. If your truth has power, are you quite certain of their target? The more powerful the truth the more potentially destructive. And what, pray, will you replace what you are potentially eroding? Just a thought…    
Dirk is the author of West of Tomorrow, an intelligent, last-chance romance of corporate intrigue, betrayal, misplaced love and the phoenix living in all of us. It's also a thoughtful look at our times and the flexible ethics that seems to populate our age of shifting paradigms.