Growing up, I always suspected that "dreams came true" for other people only. My formative year were spent in a small town in central Iowa, where everyone knew everyone else. Literally. Everyday life played out matter-of-factly on a flat canvas in beautiful (if predictable) colors, for everyone to see.
My family was neither particularly prosperous nor poverty-stricken. Vacations, if any, were to exotic locales as the Wisconsin Dells (before the Water Park). More often, a vacation was the family reunion in another Midwest town. Life was stubbornly prosaic. But I whenever I reflected on the future, I concluded my life must have a purpose. I just needed to find it.
One of the most consistent influences in my life was my grandfather, an Associated Press reporter with his own byline. He was, in fact, the only male influence I admired without reservation. His command of the English language was matched only by his precision of its use and his perceptiveness. Though I only saw him once or twice a year, due to our geographic separation, his influence on me was disproportionate to the time we were together.
"Gramps" answered every letter I sent, so I wrote to him, and looked forward to the penetrating insights invariably wrapped up in his replies. They inspired me to think and because he never talked down to me in them, I found myself resorting to the dictionary—a lot. I attempted to write with his fluency and dreamed of becoming a writer. I attempted short stories and a novel or two, even at the young age, but my own writing came out flat and unimaginative. I was just perceptive enough to realize it and rarely finished them and would never have considered publishing them, even if the thought had occurred to me.
Eventually, by accident more than anything else, I discovered I was faster in the water than almost anyone else I knew. I was—a Swimmer! From age of 9 until my junior year in high school, I labored toward an Olympic dream. The spurt of growth I needed never materialized and I settled for a swimming scholarship, becoming, in the bargain, the first college graduate in my family. I still went through a few bouts at writing and took a couple of creative writing classes and while my writing wasn't bad, in places, the stories were still flat, lifeless.
At an early age, I used to follow meandering creeks or rivers, for no other reason than to see where they went. I envied people in travel documentaries on television who'd had the opportunity to climb mountains explore deserts or swim in tropical waters.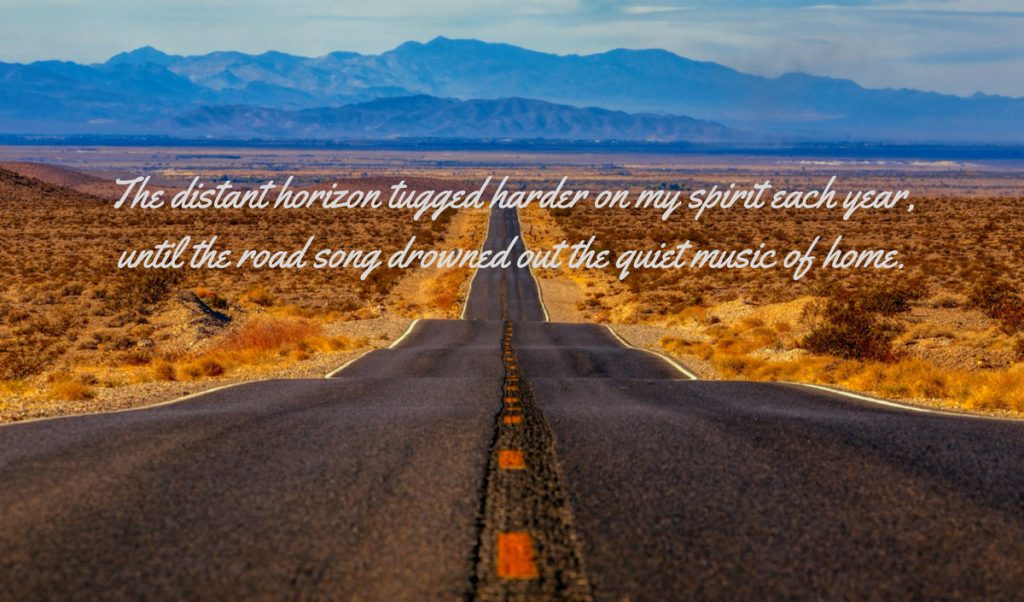 For me, the insistent tug of distant horizons grew a little each year. Finally, I combined a desire to serve my country with the urge to see parts unknown. Looking back on it, I don't believe I ever reflected on possible consequence. I just chose and that choice dominated the next twenty-plus years of my life.
I have never regretted that choice. Over the course of that period, I met an incredibly diverse range of fascinating people, I could never have met any other way. I learned use chop sticks and to see Americans to some degree through the eyes of others. I learned to surf triple overhead waves breaking on reefs fragrant with the scent of the live coral beneath. I served with moderate distinction alongside hyper-competent men and women, some of whose names you would recognize instantly, if I were to be so self-serving as to namedrop.
Given a choice, I would do it all again. But like my swimming "career" years before, it was bound to end. I retired and after a two-year sabbatical for a Master's degree, I rolled into a second career in corporate management and training. This path, like the others, proved rewarding both financially and in terms of the personal contributions I was privileged to make. Also like the others, my second career ended; this time when the company in whom I invested efforts with pride, sank into Chapter 11 during the financial collapse of 2008. I was cordially invited to leave and not return.
In theory, I should be able to find other rewarding work, I thought. I had contributions to offer any number of perceptive hypothetical employers. All I had to do was figure out how to articulate the contributions I could realistically make. But absent a truly esoteric skill for which employers were desperate, no one was hiring. And no matter how I parsed my résumé, there was no hiding my age. Networking produced leads and some interviews, but no offers.
Marine officers do not surrender, so I perservered. At least I had the satisfaction of not giving up, or retreating. But gradually, it became apparent that my practical choices at this stage were to settle for any job, just to say I had one…or to retire.
If we are defined by our choices, then I am now a writer and author. I chose to retire and write. But what? Fiction, or non-fiction? I rejected the notion of a memoir as too obvious. And who would care, anyway? My career was neither that distinguished or eventful. But could I leverage those experiences and what I had learned a people in fiction? I decided I could, and West of Tomorrow was the result.
The words, characters and thematic elements that were so elusive when I was younger seemed to come to mind almost unbidden. After reflection, I believe it's a function of having lived, loved, lost and bounced back. The essence of humanity, I have come to believe, is the curious blending of optimism and angst. No matter how bad it gets, the true nature of man is the Phoenix, rising from the ashes of our yesterdays.
Is this actually true, or do I believe this purely as a matter of choice? A little of both, perhaps? Ask me again, in a few years. But at a time when the paradigms are all shifting at once, I choose hope. Fear and despair can only become a self-fulfilling prophecy, it seems to me. I choose optimism tempered by reality because it's the only way forward.
In the end, we are what we dare to dream and are prepared to bring to life. It would be inaccurate to say I don't suffer through bouts of cycnicism, the news being what it is. But we are not what happens to us. We are what we do about what happens to us.