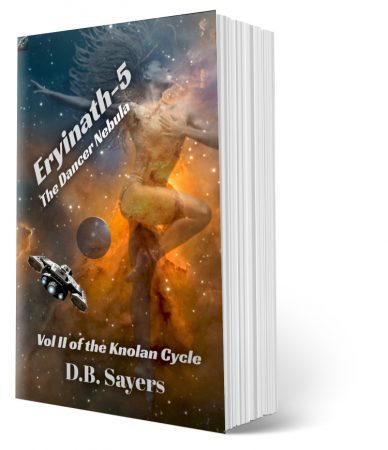 Readers who know me well also know that in my previous incarnation, I was a Marine officer, serving from the Vietnam era through Somalia. During that time I served multiple gigs in Asia, the Med, the Middle East, Africa with one foray down south to Columbia during Pappy Bush's (George Herbert Walker Bush) administration for an operation we don't talk about.
In both Tier Zero, Vol I of the Knolan Cycle and Eryinath-5, The Dancer Nebula, Hāthar Tahk, formerly Marty Tellus of Earth has learned many of the same lessons. In his short career as an officer in the Knolan Shock Forces, he has served with warriors from several systems in the Knolan Concordant.
His closest comrades in arms have include Kareitha, his platoon sergeant a battle-hardened and efficient Valiskaari woman, Ranyia, a Mennaran woman and heavy-weapons employment specialist, Kuristäal one of his wiry, sardonic squad leaders and the seven-foot Oörana, a Haãrapuri woman and heir to the the Umatôk's throne. His shared hardships with them and reliance on them in battle has taught him honor and courage is not confined to just the Knolans who are first among equals in the Concordant.
In Eryinath-5, the Dancer Nebula, Hāthar's story (and his education) continues. Gravely wounded and captured by the Valdrōsians, the Knolans' implacable enemy, Hāthar learns that neither courage nor nobility is confined to the Knolan Concordant. Ironically, he learns this as a captive slave on Eryinath-5, a hybriding colony at the outer reaches of the Valdrōsian empire.
At the hands of the lovely Rexsylia, Hāthar's Valdrōsian handler/trainer, he begins to sense the limits of his courage and heroism, along with an appreciation—if not acceptance—of alternative philosophies and universal viewpoints. As his limitations and his own vulnerabilities become more evident to him, he inevitably begins to question much of what he has taken for granted from his mentoring in the Knolan Way.
Given his value to the Knolan Concordant, it is inevitable that both the Guardian and the Oracle would seek to extricate him if they can find him and if they can locate him. Therein lies the problem. Where is he? A recovery force is on standby if only they can locate him. In the meantime, the Concordant has other problems, including the Valdrosians' apparent growing interest in Kurrithäal, the Knolan name of Earth and the indigenes that call it home.
Eryinath-5, The Dancer Nebula continues the story of first contact between Earth and Knola, and the ancient war that has been raging for over a thousand years, for this little corner of our little galaxy. The story continues…