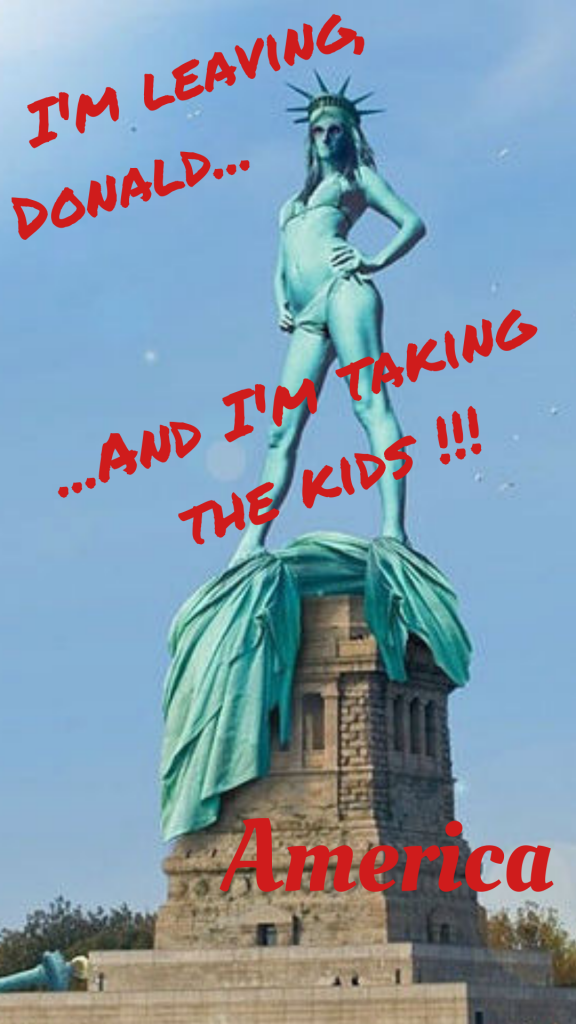 AMERICA:     "I've had it, Donald…pack your trash! You were charming, at first, but you've gotten complacent and really gross.
DONALD:      "Do you mean gross-icky or gross like fat?"
AMERICA:     "Both, you ignorant blimp! You looked like a slob at the Queen's state dinner. Even when we dress you up, you look like a slob! And what's with you and Vlad?"
DONALD:      "Well, I can't help—"
AMERICA:     (Solicitiously) "I know, Donald. I really do." (Frowns) "Funny you should mention that…"
DONALD:      "Mention what?"
AMERICA:     (Pats him on the shoulder) "That you can't help yourself. We've all noticed."
DONALD:      "Nobody else can help themselves! Have you seen my rally crowds?"
AMERICA:     (With a sigh of resignation, realizing he doesn't get it.) "Like the circus, you mean? What was it PT Barnum used to say? 'There's a sucker born every minute?'"
DONALD:      "You know you love it!"
AMERICA:     "Not really. You're week-old nachos and guacamole, left in the refrigerator."
DONALD:      (Whining) "But you like nachos and guacamole—"
AMERICA:     (Sighs) Yes, Donald. It's not bad at all fresh, but it doesn't age well."
DONALD:      "But I've made you great, again!"
AMERICA:     "No, Donald. I was always hot. You, on the other hand?" (Walks away, shaking her head).
A retired Marine officer & corporate trainer, Dirk is on his third career as an author. His books include: West of Tomorrow, a tale of corporate intrigue, betrayal and renewal, Best-Case Scenario, first volume in a coming of age series & Through the Windshield, a collection of short fiction. Due out in fall of 2019 is Tier Zero, Volume I of the Knolan Cycle, a tale of first contact between Earth and the Knolan Concordant.