Volume II of the Knolan Cycle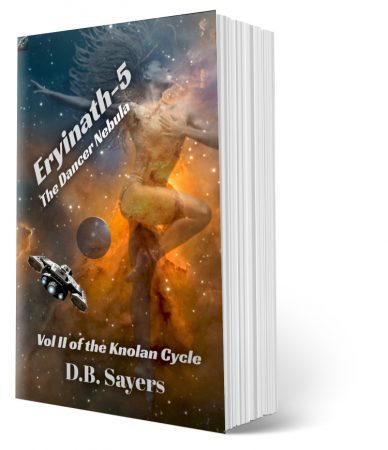 Hāthar-Tahk, (formerly Marty Tellus of Earth) has just returned from a successful mission with the Knolan Shock Forces (KSF). In common with most successful combat missions, Hāthar returns with his share of ghosts. The mission cost him and his platoon dearly. Casualties were high. But in the variable operational calculus by which Knolans evaluate success, it was "worth it."
Hāthar, on the other hand, is less sanguine about the men and women he's lost than the strategic planners who advise the Guardian, responsible for the safety of the twenty-three systems (or sectars that form the Knolan Concordant. He understands and respects their perspective. But for Hāthar, the loss of men and women following his orders is deeply personal.
On the upside, Arra, Hāthar's partner is carrying their first child and both mother and unborn are in good health. For reasons that should be obvious, Hathar wants to be around for the birth and Arra is looking forward to having him there to share the experience.
Unfortunately the Knolans' Valdrōsian enemy rarely sleeps. The Knolan fleet protecting the Orothon Sectar has ambushed by Valdrōsians using advanced stealth technology the Knolans have yet to decipher. And they have no countermeasures. While not decisive in itself, the Knolans are rattled by the ease with which they were ambushed. A counter must be found.
So when an accidental misstep by the Valdrōsians reveals where the new stealth technology has been developed, Hāthar-Tahk is called to help plan the raid. Sensitive to Hāthar's extended absence and Arra's approaching delivery, the Guardian wants to limit his help in planning only.
Specifically, the Guardian wants the benefit of his unique ability to formulate creative and unpredictable approaches to seemingly insoluable problems. The Guardian isn't disappointed.
Together with Zukinar, a Knolan Intelligence planner, they come up with a plan that may work. But it's so risky that Hāthar cannot in good conscience leave this mission to anyone else.
Designated Mission Commander, Hathar begins mission-specific training for Operation Night Flower, a mission with so many uncontrollable variables, top-level leadership has profound doubts about anyone returning from it. But Sa ́ang Kurinth, the Knolan call to duty is a compelling principal in Hāthar's mind. Once he can't ignore, personal desires notwithstanding.
Eryinath-5, The Dancer Nebula takes the reader on a journey of convoluted twists of fate and gives them an upclose and personal look at Knola's implacable enemy, the Valdrōsians and the perilously beautiful region that is Knola's corner of our galaxy. Eryinath-5 is available in Kindle and paperback from Amazon and in paperback and epub from Barnes and Noble and Kobo.
What Reviewers Are Saying About Eryinath-5
"A great second book that takes up from the first book where it should and how it should. A throughly enjoyable read that, like the first book, is hard to put down. D.B. Sayers has a knack for developing characters that appeal to the reader while entwining them in a story line that has enough twists and turns to keep you guessing. Sprinkled throughout is thoughtful dialog that gives the reader a moment to pause and go back and reread a particularly insightful moment in the story."
Semper Fi on Amazon
"I find it rare to read a book where the imagination shines so much and is so vivid. This one did it for me. Sci-Fi is one of those where you really need to be able to picture things and I was able to get a clear picture in my head."
"This is an exciting read with wonderfully engaging characters that are passionate and compelling. Add to that the action and you will be engrossed."
The Texas Book Nook
"I really enjoyed this read! I thought it was very engaging once it got started, I couldn't put it down. I liked how the writer made me feel like I was part of this new world and a part of the story. The characters became real, the world became real! Vivid."
The Indie Express
D.B. Sayers is a retired Marine officer turned corporate trainer and district manager, turned full-time author. Other books by Sayers include:
Other Books by D.B. Sayers
West of Tomorrow, a contemporary novel of corporate intrigue, betrayal, misplaced love and the phoenix in all of us.
Best-Case Scenario, Act I of Nyra's Journey is a thoughtful and often racy New Adult novella following the development of Nyra Westensee, from a young college graduate with more questions than answers to a young woman of dawning sophistication.
Through the Windshield is an anthology of thought-provoking short stories.
Tier Zero, Vol. I of the Knolan Cycle is the first book in the Knolan series, a tale of first contact between Earth and the Knolan Concordant. Eryinath-5 above-mentioned is the second book in the series.
The Year of Maybe, Act II of Nyra's Journey, the sequel to Best-Case Scenario is due out this year.