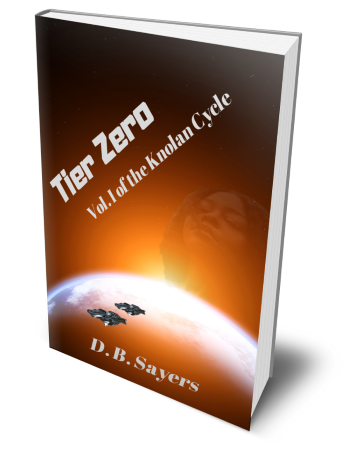 Science fiction tends to tap into our innate curiosity about how the future might affect our lives. One commentator on science fiction as a genre opined that science fiction is "a telescope to the future." The post makes the case for a forward-looking deep dive into the inevitability of change, driven by man's relentless drive to control our environment and (by association) our destiny.
I think there's a place for that kind of thinking, whether you accept the notion in the post or not. Science fiction by definition seeks to deal with the essential unknowns associated with a future that both interacts with us as it unfolds and on which the discoveries we make ultimately have a hand in shaping our destiny. Any speculative fiction shares that efficacy, if efficacy it is.
But I wonder if it's worth recalling that whatever advances we make technologically, those advances are made by humans. And does not a lot of science fiction get lost in a jungle of "gadgets," often at the expense of thoughtful thematic expression? Our fascination with a hypothetical future often focuses on how the world in which we live may be transformed by gadgets. But are not humans the real catalysts of change, irrespective of what those changes are? And how that change, whatever it is affects us is only partially dependent on the technology or the practical utility of the latest i-phone app. (For example).
In my view, the real focus of science fiction is and must be on how the changes we bring into being technologically affect not simply how we live, but how those changes transform our lives but how we feel about that brave new world (to parrot Aldous Huxley) and how the changes we both bring into being and by which we are affected, shape our view of ourselves. What makes humans fundamentally different, we believe, is our self-awareness.
It is self-awareness and the degree to which we are able to learn, apply and pass on the lessons we've learned that make us who/what we are. And while science fiction gives us an opportunity to play "what if" with technology, I'm not sure that the more important value to be found in reading science fiction is the speculative journey into our own psyche's and how a different external reality might cause us to order our own lives, both individually and collectively.
"How would we be, if...?"
In Tier Zero, Vol I of the Knolan Cycle, the Knolans are clearly technologically way ahead of us. So much so, that first contact between the Knolans and we indigenes of Earth actually took place over 30 years ago and no one is aware of it. Yet. In Tier Zero, the Knolans are a little cirumspect about their motivations for making contact in the first place, even with the few with whom they have chosen to connect. And as the reader becomes aware of their reasons for it, it's obvious that Knolan ideation about a lot of things is fundamentally different than our own. Paradoxically, the Knolans are in many ways so similar to us, that it's hard to reconcile the differences between their views of themselves and their relationship with the Universe and our own, given how otherwise similar we are.
And that, to me, is the heart and soul of science fiction. It isn't gadgets, in the end, it's still about the human condition and how we (as humans) will be affected by world/universal views that are profoundly different from our own. Given our track record here in the US, the supposed melting pot of the world, it's fair to wonder if our knee-jerk reaction to contact with others, however similar may not be fear, loathing or aggressive antagonism.
When/if confronted with difference from afar, will we have the kind of tolerance balanced with a healthy curiosity to learn from and share with a culture so foreign that it literally dwarfs the challenges of understanding and tolerance we've been obliged to confront before? For most of us paying attention, my guess is the jury's still out. And if you're like me, that concerns you.
D.B. Sayers is the author of four books and is currently working on two more. In his previous "incarnation," Dirk was a Marine officer, then corporate trainer and training manager. He currently lives in Laguna Niguel a couple miles from the Pacific with he wife, two psychotic cats and 12 year old, 5 foot Ball Python named Corona.